The Vietor Laboratory: Regulatory Mechanisms of Cell Differentiation
TPA-induced sequence-7 (TIS7) protein has been shown to be involved in the regulation of differentiation processes in various cell types, e.g. neurons, enterocytes, myocytes and recently also adipocytes. Current data show that TIS7 is upregulated in white adipose tissues of genetically obese ob/ob mice. In previous studies, we have identified that TIS7 protein functions as a transcriptional co-regulator, owing to its interaction with protein complexes that contain either histone deacetylases or protein methyl transferases (Lammirato et al., BMC Biol, 2016). Analyses of adipocyte differentiation suggested an involvement of TIS7 in the regulation of adipogenesis in the Wnt/β-catenin signalling context. Based on experiments with TIS7 knockout mice generated in our laboratory, we identified a negative effect of TIS7 on Wnt signalling and a positive effect on adipocyte differentiation. Compared with wild-type littermates, TIS7 knockout mice do not gain weight when chronically fed with a high-fat diet. SKMc15, a second member of TIS7 gene family, is highly conserved in different species. However, there has been no information to date concerning the physiological function and mechanisms of action of SKMc15 and its possible involvement in the differentiation of various tissues. We have therefore generated mice that lack either SKMc15 or both TIS7 and SKMc15 genes and we are currently analysing the effects of both TIS7 and SKMc15 on the regulation of adipogenesis. The ablation of both TIS7 and SKMc15 genes significantly affected the expression of genes that are essential for adipocyte differentiation and function. Since dKO mice render a substantially leaner phenotype, we propose that TIS7 and SKMc15 represent novel players in the process of physiological adipocyte differentiation.
Differentiated cells can re-enter the cell cycle to repair tissue damage, via a series of discrete morphological and molecular stages. Using TIS7 knockout mice generated in our laboratory as a specific experimental animal model, the group with which we are involved, led by Prof. Jason C Mills from Washington University School of Medicine in St Louis, USA, identified TIS7 as a part of this conserved cellular regeneration programme called "paligenosis".
We were recently involved in the development of a novel assay in Taras Valovka's laboratory, to detect and characterise interactions between transcription factor NF-κB and dsDNA. This technique can be expanded to detect and characterise sequence-dependent protein-dsDNA interactions as well as other transcriptional factors.Together with the Ezzatollah Fathi's laboratory at the University of Tabriz, Iran, we studied various cellular mechanisms involved in tissue regeneration, with a possible application for experimental cell therapies. This project resulted in a number of joint publications in 2020.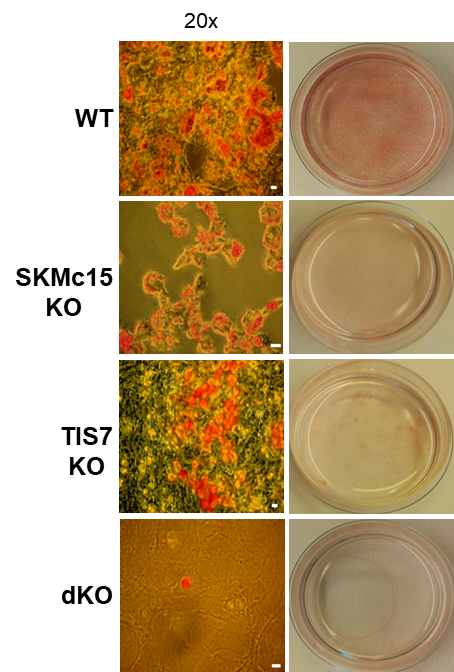 Publications
A Dedicated Evolutionarily Conserved Molecular Network Licenses Differentiated Cells to Return to the Cell Cycle. Miao ZF, Lewis MA, Cho CJ, Adkins-Threats M, Park D, Brown JW, Sun JX, Burclaff JR, Kennedy S, Lu J, Mahar M, Vietor I, Huber LA, Davidson NO, Cavalli V, Rubin DC, Wang ZN, Mills JC.Dev Cell. 2020 Oct 26;55(2):178-194.e7. doi: 10.1016/j.devcel.2020.07.005. Epub 2020 Aug 7.PMID: 32768422
LAMTOR/Ragulator regulates lipid metabolism in macrophages and foam cell differentiation. Lamberti G, De Smet CH, Angelova M, Kremser L, Taub N, Herrmann C, Hess MW, Rainer J, Tancevski I, Schweigreiter R, Kofler R, Schmiedinger T, Vietor I, Trajanoski Z, Ejsing CS, Lindner HH, Huber LA, Stasyk T.FEBS Lett. 2020 Jan;594(1):31-42. doi: 10.1002/1873-3468.13579. Epub 2019 Aug 26.PMID: 31423582
Fluorescent thermal shift‑based method for detection of NF‑κB binding to double‑stranded DNA. Leitner PD, Vietor I, Huber LA, Valovka T. Sci Rep. 2021 Jan 27;11(1):2331. doi: 10.1038/s41598-021-81743-1.PMID: 33504856
Collaborations
Ezzatollah Fathi, Department of Clinical Sciences, Faculty of Veterinary Medicine, University of Tabriz, Tabriz. Iran
Funding
IMPULSE Iran Austria
Contact